Plastics
---
Polythene, in all its forms, is still the most widely-used material in rotomoulding: it covers 80 to 90% of all polymers. For all that, other polymers are incorporated into the rotomoulding process to respond to specific problems. Plastics must meet two conditions to be suitable for rotomoulding: High thermal stability and very low material viscosity when melted.
Polythene (PE)
Polythene is a standard, low-cost plastic. There are several types: HDPE (high-density polythene), LDPE (low-density polythene) and co-polymers like LLDPE. It is one of the materials most used in rotomoulding. This material has many interesting features (lightweight, easy to process, resistant to chemicals), especially for manufacturing a variety of products - containers, storage tanks, street furniture, design furniture, marker buoys, etc.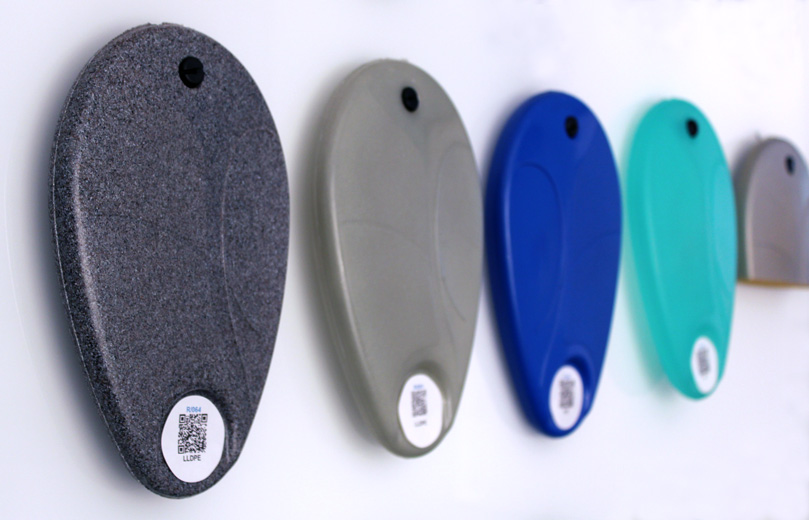 Main advantages of PE:
Shock resistant even when cold
Abrasion resistant
Low friction coefficient
Flexible to rigid grade
Chemical inertia
Food contact grade
Electrical insulation
Main disadvantages of PE:
Difficult to glue
Max. use temperatures 50 to 80°C depending on the grade
Significant shrinkage
Polypropylene (PP)
Polypropylene is a standard, low-cost plastic which delivers mechanical and thermal performances that are superior to polythene. In rotomoulding, it can be found in transport or for infrastructure applications where greater rigidity than PE is required.
Main advantages of PP:
Properties similar to PE but more rigid
Very impact resistant
Temperature resistant (100°C) up to a peak of 140°C
Good resistance to chemicals
Very fatigue resistant
Main disadvantages of PP:
Breaks at low temperature
Gas permeable (CO2)
Little resistance to UV
Little resistance to petrol and strong oxidising agents
Little resistance to creep
Substantial shrinkage
Polyamide (PA)
Polyamide is the engineering plastic in vogue. It offers many properties depending on its chemical make-up (rigidity, lightening, chemical resistance, replacement for metal, etc.). In rotomoulding, it is found as PA6 or PA12 and can be used to manufacture oil and fuel tanks for small series vehicles (lorries, tractors, construction machinery, etc.).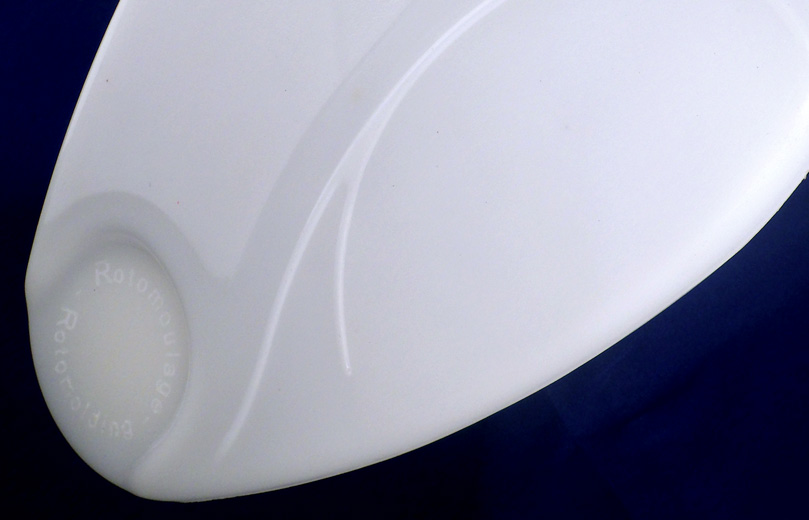 Main advantages of PA:
Low friction coefficient
Very abrasion resistant
Good chemical resistance to solvents, oils, hydrocarbons, etc.
Very fatigue resistant
Main disadvantages of PA:
Water absorption causing dimensional instability and change in properties
Polycarbonate (PC)
Polycarbonate is the second engineering plastic most produced after polyamide. In rotomoulding, it is used to create transparent parts that are very shock-resistant.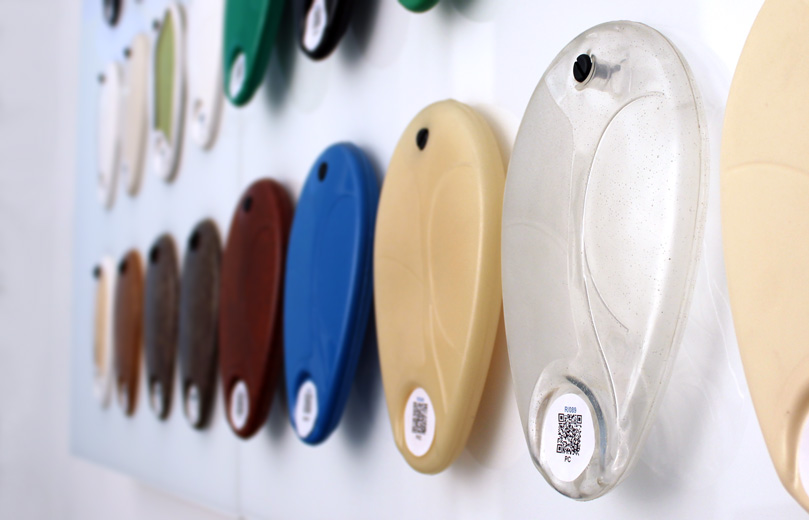 Main advantages of PC:
Excellent transparency
Glossy surface
Excellent mechanical properties (rigidity, resistance to impacts, etc.) in a wide temperature range (-150 to 135°C)
Self-extinguishing 
Main disadvantages of PC:
Limited resistance to hot water
Limited resistance to UV without additives (yellowing)
Limited chemical resistance (stress cracking phenomenon)
Polyvinyl chloride (PVC)
PVC is a very low-cost plastic and one of the materials most used in rotomoulding as it can be flexible or rigid. In rotomoulding, it can be used to produce flexible bags or sports items (ball, etc.)
Main advantages of PVC:
Very cost-saving
Good resistance to chemicals
Intrinsically fireproofed
Rigid PVC: good mechanical resistance, transparency, relatively good resistance to UV
Flexible PVC: flexible, transparent
Main disadvantages of PVC:
Tricky to process and can cause the material to deteriorate quickly
Limited chemical resistance to solvents
Discolours when exposed to UV for long periods
Limited temperature resistance
Polyurethane (PU)
Polyurethane is an elastomer material with excellent abrasion resistance. In rotomoulding, it is mainly found in the manufacture of engineering parts that need to be wear-resistant.
Main advantages of PU:
Excellent abrasion resistance
Resistant to tearing
Can be transparent
Resistant to oils
Fatigue resistant 
Main disadvantages of PU:
Limited resistance to UV
Limited resistance to chemicals
Limited temperature resistance
Polyoxymethylene (POM)
Polyoxymethylene is an engineering plastic with excellent chemical and abrasion resistance. It can be used to manufacture reservoirs.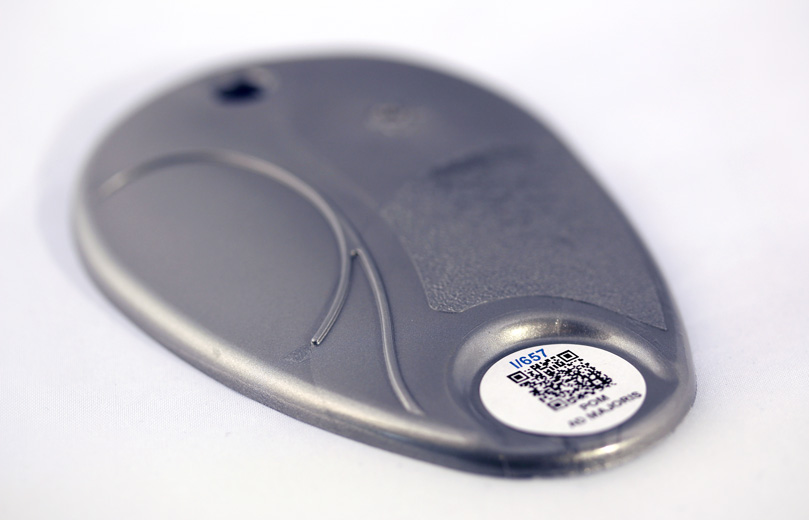 Main advantages of POM:
Highly crystalline
Excellent abrasion resistance
Low friction coefficient
Good resistance to creep
Good resistance to solvents
Main disadvantages of POM:
Limited chemical resistance to acids
Little resistance to UV
Significant shrinkage
Polyvinylidene fluoride (PVDF)
Polyvinylidene fluoride is a thermoplastic fluoropolymer with excellent resistance to corrosive chemicals. It is basically used to manufacture tanks for the chemical industry.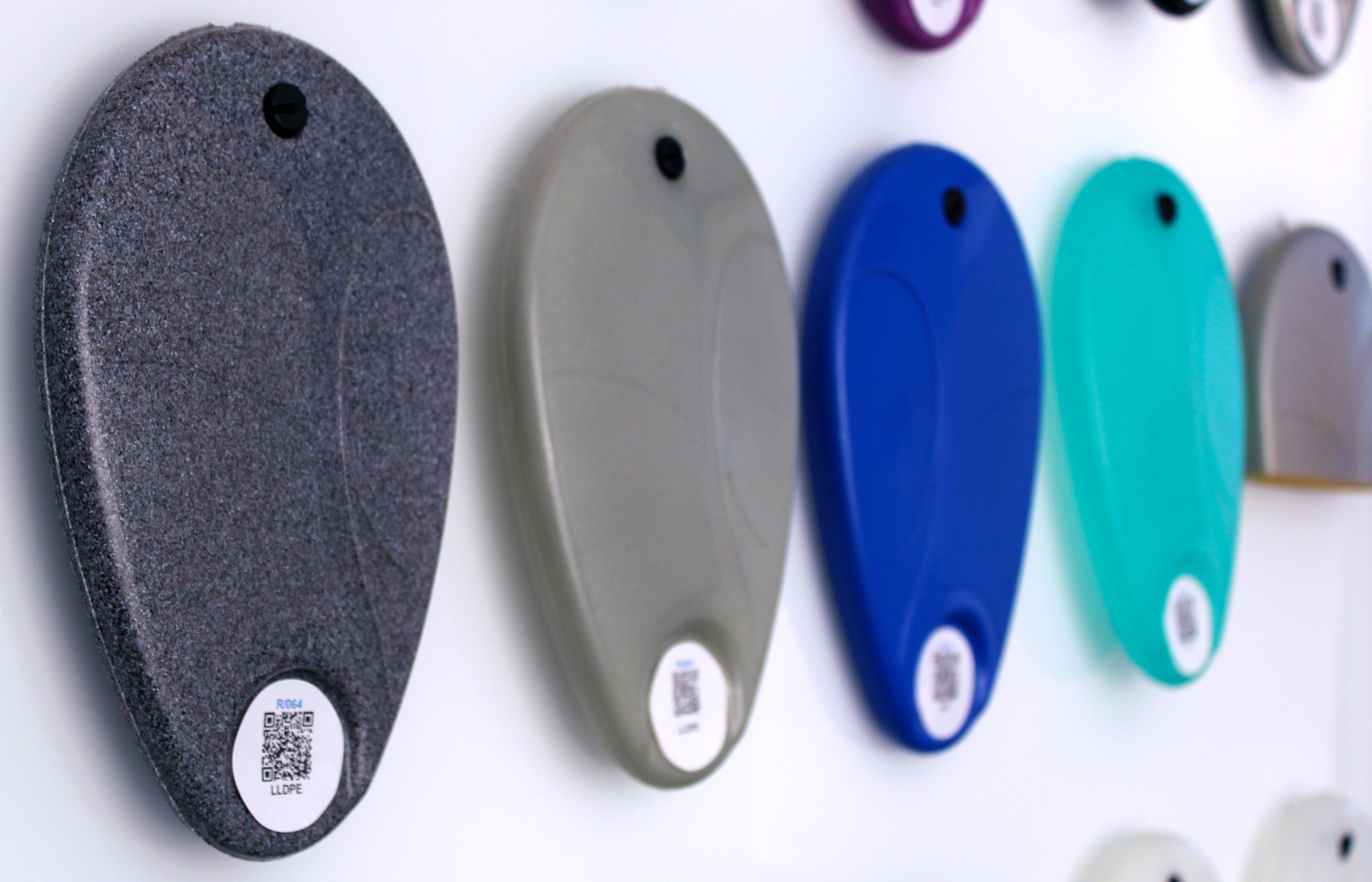 Main advantages of PVDF:
Good mechanical properties compared with other fluoropolymers
Good resistance to chemicals
High dielectric constant
High piezoelectric and pyroelectric properties
Fire resistant 
Main disadvantages of PVDF:
Tends to dissolve under certain polar solvents and basic amines
Dielectric properties depend on the frequency, limited use as electrical insulation
Thermoplastic polyester elastomer (TPEE)
Thermoplastic polyester elastomer is an engineering plastic between the elastomers and the engineering thermoplastics and provides a good combination of strength and flexibility. It is an alternative to the rigid materials when good shock absorbency is required.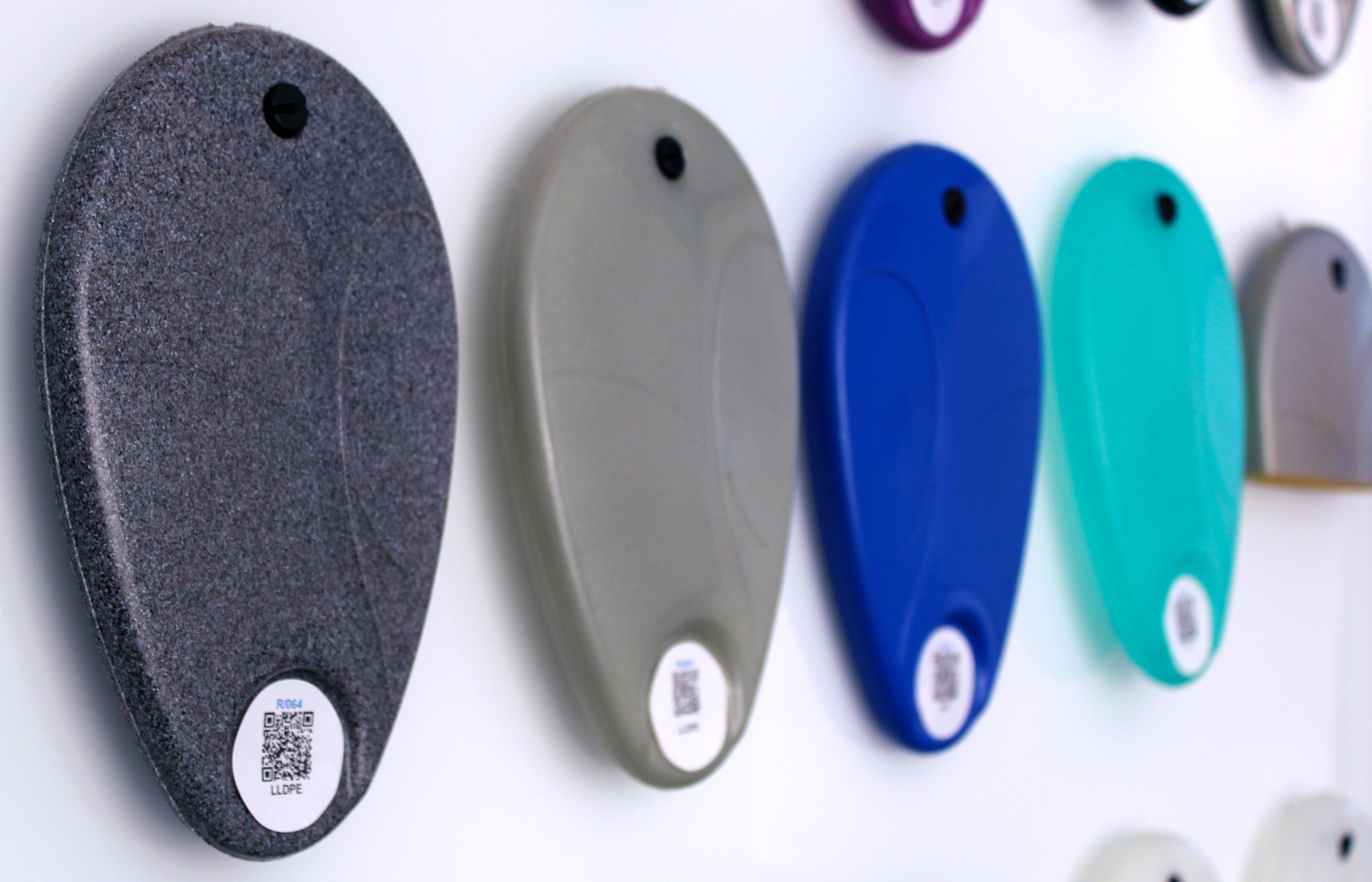 Main advantages of TPEE:
Very abrasion resistant
Wide range of temperature use
Very fatigue resistant
Highly flexible
Main disadvantages of TPEE:
Sensitive to hydrolysis at high temperatures
Limited resistance to UV
Polystyrene (PS)
Polystyrene is a standard plastic used in many applications. It can produce distinctive-looking parts that are very rigid.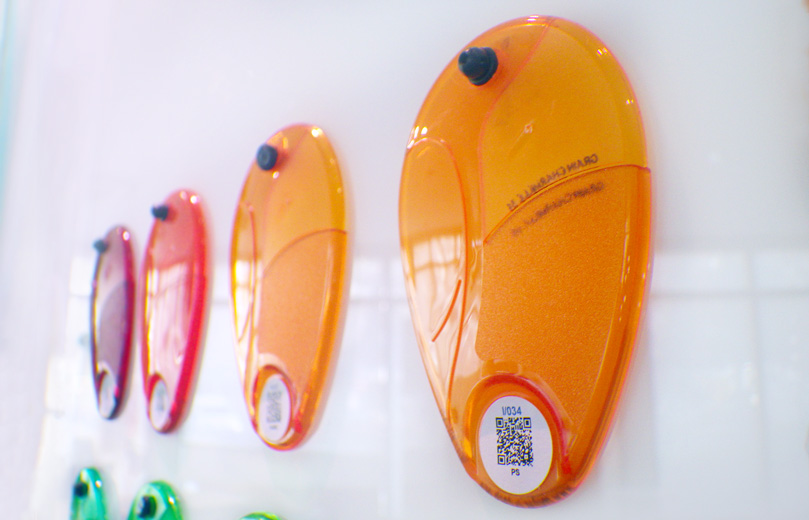 Main advantages of PS:
Cost-saving
Low shrinkage
Transparent and glossy
Extremely rigid
Good insulation 
Main disadvantages of PS:
Breakable
Not very abrasion resistant
Limited resistance to temperature (80°C)
Limited chemical resistance and sensitive to stress cracking
Resistance to UV
Polylactic acid (PLA)
Polylactic acid is a biosourced plastic derived from renewable resources (corn, wheat)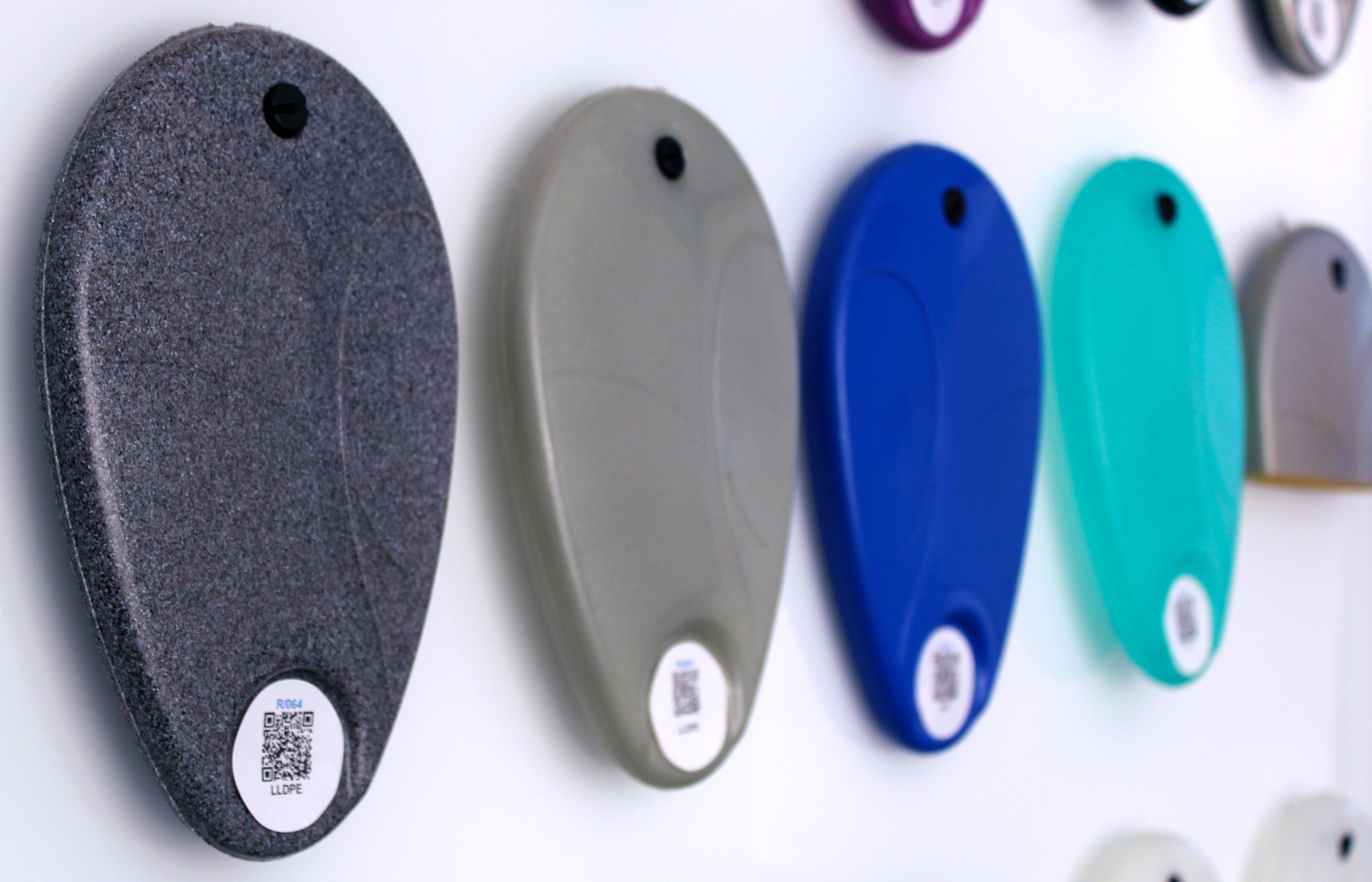 Main advantages of PLA:
Transparent
Rigid
Good barrier properties against odours
Reduced environmental impact
Main disadvantages of PLA:
Little resistance to impacts
Water permeable
Little resistance to temperature
More expensive than commodity resins
Ethylene-vinyl acetate (EVA)
Ethylene-vinyl acetate is a flexible plastic based on LDPE with a vinyl acetate monomer. It can be a substitute for flexible LDPE or PVC.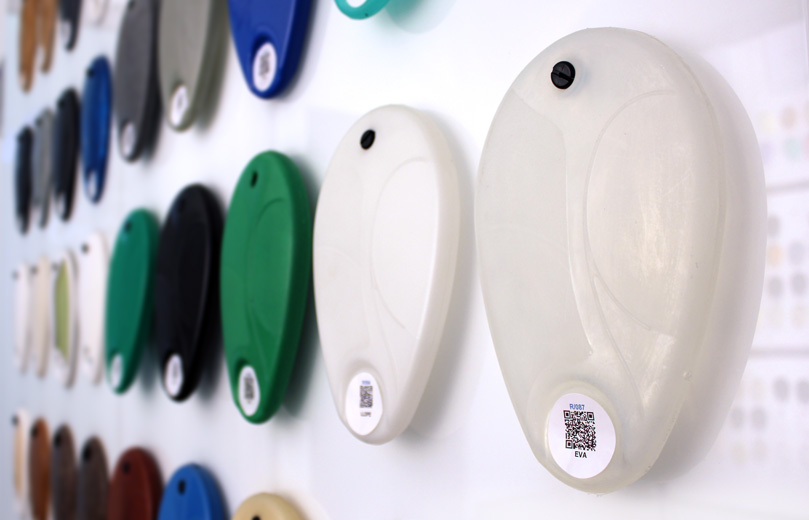 Main advantages of EVA:
More flexible, transparent and glossier than LDPE
Resists perforation better
Food contact
Main disadvantages of EVA:
Limited mechanical and chemical resistance compared with LDPE
More flammable than PVC
Composites
Composite materials are a mix of two or more different materials, normally a polymer resin (thermosetting or thermoplastic) and fibres, fillers, cores and/or additives. These materials are being increasingly substituted for metals - they are lightweight, enjoy design flexibility, are mechanically strong and corrosion-resistant. Thermoplastic composites can also be recycled and are easy to assembly, especially by overmoulding, which is difficult with thermosetting composites. These materials are finding an increasing number of applications in the aeronautical, boating and car industries.